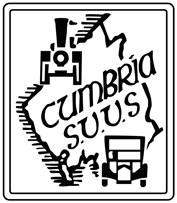 As mentioned elsewhere on the website, the nucleus of Society was formed on New Years day 1972 by a group of enthusiasts who recognised the need for an organisation that would cater for all preserved equipment from a traction engine to a collection of matchboxes, and everything in between. Many events being held at this time were exclusive and did not encourage a broad range of exhibits, some were by invitation only. The fundamental and guiding principle of encouraging exhibits over the broadest possible range has been upheld by the Society since its inception and this is adequately demonstrated each year at the Cumbria Steam Gathering.
While the Steam Gathering is by far the biggest annual undertaking, Society members are invited to attend any or all of the social meetings held at the Royal British Legion Club, Musgrave House, Middlegate, Penrith CA11 7PT on the second Monday of every month when a guest speaker is invited to entertain us on topics, not only relating to preservation, but also on other interesting and informative subjects. At least one meeting per year, usually June, is held at an outdoor venue.
An annual ploughing competition is held during October each year, and with the growth in interest of vintage and classic tractor ploughing this has become a popular and well supported event. Periodically, entrants at the Society ploughing competition can qualify for inclusion in the British National ploughing championships.
A quarterly newsletter, the "Vintage Chat" is produced and mailed to all members, this contains articles submitted by the members and lists meetings and venues for  forthcoming local events.
The Cumbria Steam and Vintage Vehicle Society was incorporated as a Limited Company in 1974 and is affiliated to the National Traction Engine Trust, the Federation of British Historic Vehicle Clubs and the Society of Ploughmen.
Membership of the Society is currently around 300, if you have been interested by the content of this website and would like to become involved in the preservation movement, a membership application form is included with this page please click here for application form.